The Top Shelf Camera Bag is the first open-layout sling
bag that lets you access all your gear in 1.1 seconds.
The patented sling design rests in a tabletop position
on your hip so you can see all your gear and
set up on a flat, clean surface. It's like a table
whenever and wherever you need it!
Securely carry your camera, lenses, laptop,
keys, passport, tripod and more, all in one sleek bag!
This ultra-lightweight camera bag gives you immediate
access to your gear so you never miss a shot no matter the situation.
And the best part? You don't even have to take the bag off!
Most camera bags require you to put down the bag
(sometimes on the ground or dirty surfaces!)
and unzip at least ¾ of the main compartment to
access all your gear. With The Top Shelf,
you getinstant, full-view access to all your gear
with zero digging for buried or hidden gear.
In one swift motion and push of a button, the sling
transforms into a large, viewable compartment where
all your gear's perfectly organized by velcro dividers
with endless configurations.
Wear The Top Shelf your way with patented dual-strap
technology that seamlessly shifts from backpack to
sling without compromising style.
The versatile design combines the convenience and
accessibility of a compact sling bag with the comfort and
weight distribution of a backpack.
Our instant-access push-button never
compromises the safety of your gear.
If you prefer atraditional backpack zipper,
The Top Shelf has that, too! The full compartment
zipper and Instant-Access Latch give you speed and
accessibility without compromising safety and security.
The Top Shelf Camera Bag turns into a work
table and laptop station instantly. When you swing
the sling around to your side, it lands in a flat,
tabletop position, ready for anything.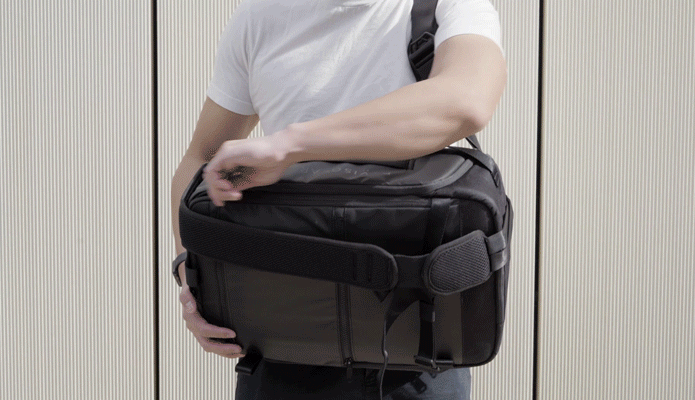 The organized compartments separate your gear
for easy access, and the tabletop design gives you a
safe, flat surface to assemble or change lenses
The Top Shelf doesn't compromise on quality one bit.
With the classic black color, water-resistant nylon, rain cover,
YKK zippers, comfortable padded straps, and heavy-weight
capability in a soft-shell, you can trust this bag to withstand every adventure.
Whether you're a full-time pro or hobbyist photographer,
you need to keep your gear safe and  access it quickly.
The Top Shelf Camera Bag is sturdy and convenient enough
for professional use but stylish and versatile enough for everyday use.
The comfortability and compactness of The Top Shelf make it the essential everyday bag.
Laptop bag, camera bag, backpack—there's no need for so many bags.
The Top Shelf camera bag holds everything you need in a
carry-on size with compartments for your gear, laptop, keys,
phone and passport. It's compact enough that you can use
it if you're going out with just a small camera, yet it's big enough
to hold up to 8 lenses and a full size DSLR camera!
Whether you're working with 8 lenses or just one camera and
a tripod, The Top Shelf Camera Bag never lets you miss a moment.
It's the best camera storage solution available for photographers
looking to maximize time, space, weight and comfort while having
extreme usability in the field. Just wait until you try it!
Sincerely.